Last week, a much anticipated climate change conference concluded in Katowice, Poland. The conference is critical because 3 years after signing the Paris Agreement, there is finally a working program to operationalize the Agreement.
Many people have been talking about the rigor (or the lack of it) of this rule-book, and what went down in Katowice. So, here is a summary of whatever happened in COP24, discuessed article by article.
(If you wish to skip to a simple list of where the conference delivered and where it didn't, skip to the end of the article.)
What is COP?
COP, or the Conference of Parties, is an annual conference of all the signatories of the United Nations Framework Convention on Climate Change (UNFCCC), signed in 1992 in Rio de Janeiro. Every year since, the signatories of this framework have convened to take important decisions on the climate action required to keep climate change at a manageable rate.
COP21 – The Paris Agreement
A landmark COP in Paris, where the world came together to take a pledge to keep global warming to "well below 2.0°C" with an aim to limit warming to 1.5°C as compared to pre-industrial levels.
At the moment, 195 countries have signed and ratified the Agreement, with only 2 countries, Nicaragua and Syria opposing the Agreement. USA, under Donald Trump, is expected to form a trio of the opposing countries.
COP24 – Katowice, Poland
This COP, to the surprise of many, managed to reach a strong enough consensus to release a draft of the Paris Agreement Work Programme, which summaries the operations that will be carried out to make good on that promise of limiting global warming to "well below 2.0°C".
The highlights
COP24 covered a wide array of subjects, with the key issues discussed being NDCs, Mitigation of climate change, Climate Finance, Transparency in reporting and the Global Stock-take.
A major point of discussion was the special report released by IPCC a few weeks prior to COP24. The report analyzed the current state of targets in carbon emission reductions, and whether or not we will be able to limit warming to 1.5°C (see here).

Due to the grim conclusions of this report, which said that current reductions would limit warming to only 3.0°C, many felt that this would prompt countries to step up their ambition in reducing emissions.

However, this was not to be. Due to strong objections from the USA, Russia, Saudi Arabia and Kuwait – economies dependent on fossil fuel – this report played a very-key role in the final rule-book.

Instead of "welcoming" the report, the rule-book now states that it "appreciates the timely completion" of the report and encourages parties to use its conclusions in their own target setting.
NDC target setting and reporting
As part of the Paris Agreement, every country is expected to submit Nationally Determined Contributions (NDCs), which is a summary of how the country plans to reduce its carbon emissions to keep in line with the overall target of the Paris Agreement.
NDCs can cover economy-wide emission reductions or project/policy specific reductions. The first set of NDCs was submitted to the Paris Agreement in 2016, with the second round of targets expected to be given in by 2025.
With regards to NDCs, there were major disagreements largely between developed countries and developing countries.
Of these disagreements, the concept of "common but differentiated responsibilities" was the most contentious. Developed countries felt that developing countries should match up to the the targets set by them in their quest for development, regardless of current capacities.
The final outcomes of NDC discussions was summarized under Article 4-
With regards to information necessary for clarity, transparency and understanding (ICTU), countries are expected to comply from the submission of 2nd NDCs. However, parties are "strongly urged" to use this in the first report due 2020.
Support and guidance will be given to developing countries to build capacity, account and communicate their NDCs effectively.
Special circumstances of the Least Developed Countries (LDCs) and Small Island Developing States (SIDS) will be taken into account, and will be given flexibility in reporting and target setting. This means that they are not expected to rigorously provide NDCs and its status.
Developed countries will take the lead in emissions reduction, by keeping ambitious standards, but developing countries are "encouraged" to move over time to higher ambitions in target setting and accounting.
 Due to difficulty in setting up metrics for measuring mitigation and adaptation, countries felt that NDCs should only cover mitigation activities. However, developing countries felt that adaptation should also be included and a "full scope" of NDCs should be explored.Therefore, the final decision was a compromise. Mitigation resulting from adaptation activities and economic diversification, which is strongly pursued in developing countries, shall be part of the ICTU reporting.
NDCs are expected to become a part of the biennial reporting by parties.
However, there could be no decision taken on guidance for features of NDCs. What kind of targets can come under NDCs? How will the communication of successive NDCs be? What are the metrics involved in quantifying NDCs? These are questions that could not be answered. They will be touched upon only in 2024.
---
Market Mechanisms
Of all the disagreements, the one on market mechanisms was the largest and extended the conference by 2 days.
Brazil, silently supported by India and China, argued about the use of accumulated carbon credits under the Clean Development Mechanism (CDM) of the Kyoto Protocol. However, none of the developed countries supported the CDM and wanted a new market mechanism to replace it with a fresh start.
This meant that all of the emission reduction measures taken by Brazil in compliance with the Kyoto Protocol would go to waste. Also, what was the guarantee that a new mechanism would also be done away with suddenly, like the Kyoto Protocol?
This deadlock could not be resolved, and decisions were deferred to COP25.
However, there were some decisions taken in terms of voluntary carbon trading, which includes-
According to Art. 6.2, countries can engage in voluntary trading of mitigation outcomes, which includes carbon emissions, sustainable development projects, etc. This trading will require a registry with the UNFCCC and a technical expert review on accounting.
There will be no international oversight for Art. 6.2, as this is a bilateral cooperation between two Parties.
For bilateral cooperative trade, the NDCs have to be quantified.
---
Adaptation
The efforts taken by countries to adapt to climate change was generally not given as much importance as mitigation, because it is so difficult to quantify these measures. Also, these measures are taken as a response to the impact of climate change, as opposed to the overall target of limiting global warming.
However, developing countries are more reliant on adaptation measures. Therefore, this is of key importance to them, especially LDCs and SIDS.
The decision taken in terms of adaptation, under Art. 7 of the Paris Agreement were-
Adaptation communication is country driven and flexible. Countries can choose what and how they wish to communication to the UNFCCC.
Adaptation communication is not subject to review.
---
Climate Finance
This was a major point of discussion at COP24. In COP15 in Copenhagen, developed countries pledged to make available, a collective amount of $100 billion every year by 2020 for developing countries.
Many developing countries felt that this target was not being met, and also felt that a lot more finance is required from the developed countries in light of the IPCC Special Report.
However, developed countries were reluctant to revise their targets, in light of USA leaving the Paris Agreement and their own domestic issues.
The final decisions taken in COP24 were-
Developed countries can categorize every form of financial flow as climate finance, and have independence on which financial resources they wish to mobilize. This was a major disappointment for developing countries.
A mechanism for flow of climate finance is still ambiguous until 2020. Post 2025 climate finance will begin negotiations in 2020.
Communication of climate finance is mandatory for all industrialized countries.
They also need to report on evaluation and methodologies of reviewing proposals for climate finance.
UNEP Report 2016 estimated that the Adaptation Fund will close to $300 billion by 2030, will be financed by processed of the market mechanisms in carbon trading (Art. 6), as well as public and private sources. The share of proceeds from bilateral trade going to the Adaptation Fund is still heavily opposed by many countries.
Once the source of funds for Adaptation Fund is clear, it will exclusively report to the Paris Agreement after the Kyoto Protocol  expires.
---
Transparency
The Transparency Framework relates to the biennial reports that are to be filed by parties to the Agreement. These reports have to start being submitted by 2024. In this regard, there were 3 categories for the reporting structure-
Category 1 – Industrialized (mandatory reporting)
Category 2 – other countries (self-determined flexibility)
Category 3 – LDCs/SIDS (at their "discretion)
Developing countries have been given the flexibility to report as much as possible, given that there is very little done in these countries in terms of a reporting mechanisms. However, the rule-book now expects that are required to come up with a self-determined timeline, by the end of which they should be able to "graduate" to a higher category.
Also, if the transparency reports are fudged, a compliance procedure can be initiated against that country. However, this requires the consent of that country (so, no such thing is going to happen).
However, every country has to report the accounting for market mechanisms, once functional. This includes adjustments made after trading.
However, every country can voluntarily report the following aspects-
Methodologies for projection
Impacts
Adaptation action
Monitoring and evaluation of adapatation
Addressing loss and damage
Cooperation action
Voluntary reporting of methodologies of projection greatly weakens this Article, as a review of methodologies could bring out discrepancies in projection.
---
Global Stock-take
In 2023, there will be a global stock-take to assess the collective progress of countries in achieving the targets of the Paris Agreement. In this stock-take, there will also be discussions on opportunities for enhanced action and support.
The second global stock-take will be in 2028.

---
Where did COP24 fail to deliver?
By not taking the IPCC Special report into consideration, there was no collective ratcheting of targets in NDCs.
There was no clear intention of increasing ambition in climate finance by the developed countries.
There is also no mechanism for transfer of climate finance into developed countries.
The future of market mechanisms is as bleak as it can be.
There was virtually no discussion on non-market mechanisms to reduce emissions, like increasing carbon sinks.
Due to the lack of ambition and dilution of climate finance mechanisms, it seems like each country is on its own.
No metrics could be evolved for quantification of mitigation and adaptation measures.
By the wordings of the article on Global Stock-take, it is likely that by the middle of the next decade, the concept of "common but differentiated responsibilities" will die out. Developing and devleoped countries will possibly have common timelines and common goals, as well as common reporting requirements.
For India, the prospect of submitting an updated report for the global stock-take is a major task, because there is a severe lack of data and inventory mechanism at the moment.
And, where did COP24 deliver?
Transparency framework was given a lot of importance.
Loss and damage will be considered in the global stock-take, however it will not be a separate work-stream. There is a section for loss and damage in the transparency framework under adaptation.
In light of the IPCC Special Report, some countries have pledged to increase ambition in their NDCs.
There is finally a rule-book, that can formally implement the Paris Agreement.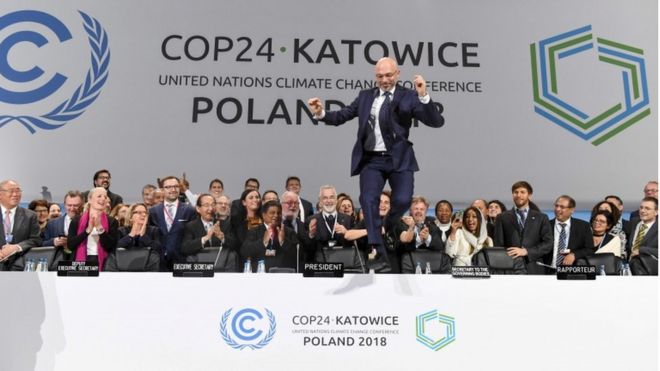 ---
References:
All COP24 images from Google Images.